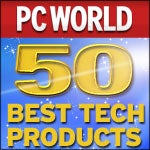 The Beatles. Citizen Kane. Muhammad Ali. Many have laid claim to being the "best ever" in their respective fields of work, but only one can top the list. And the same is true when it comes to technology.
So what's the best tech product to come out of the digital age? And what qualifies a product as being "best"? First and foremost, it must be a quality product. In many cases, that means a piece of hardware or software that has truly changed our lives and that we can't live without (or couldn't at the time it debuted). Beyond that, a product should have attained a certain level of popularity, had staying power, and perhaps made some sort of breakthrough, influencing the development of later products of its ilk.
So after considering hundreds of products and engaging in many hours of painstaking debate, PC World presents the 50 best tech products. Note that we're looking only at technology that has arisen since the dawn of the personal computer, so don't expect to see the cotton gin and the transistor radio on the list. Instead, you'll find gear that, in all likelihood, you used yourself at one point or another--and, in many cases, products you're still using today.
Read more ...
Source :
PCworld.com